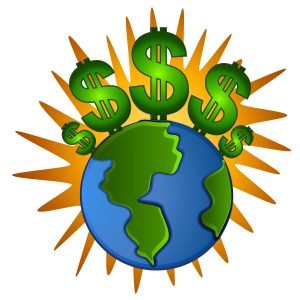 One way to generate income (and probably the most popular) is to use pay per click ads on your niche website.
Pay Per Click (PPC) Advertising
Pay per click advertising is a bonus for niche websites because it basically does exactly what it says. When your visitors click on an ad within your website you will get paid just for that click. It doesn't apply to how many products the visitors purchase.
Google AdSense
In a nutshell, Google AdSense is an unique advertising program that shows ads relevant to the content of a website or even sometimes to a user's search history.
You've probably seen ads on pages you've browsed either as text links or images. Google AdSense is just one method that can be used to generate income from your niche website but it can be a large portion in some cases.
Google is essentially an algorithm company when you think about how they get and display information based on specific keywords/phrases people search for. They try to return the most relevant information to the user based on that info. A similar outcome happens with AdSense as they try to display the most relevant ads to the user based on content.
Integrating AdSense in your website takes only a few minutes and you can be on your way with one or more nicely integrated AdSense ads in no time.
Other Alternatives
1. BuySellAds
BuySellAds is a direct advertisement network. This basically means that you can sell ad space on your blog to advertisers. It is one of the largest advertising network of its kind. But it has some restrictions too. You will need to meet the minimum traffic requirements to get approved. BuySellAds will automatically fetch you Google PR and Alexa statistics. Although BuySellAds is a great alternative, it is also hard to get approved with.
2. Chitika
Chitika is very similar to Google AdSense. It only shows contextual ads, like AdSense. And just like AdSense, it operates on a CPC basis. One advantage Chitika has is an affiliate program built right in. So you can refer people to Chitika and you get a percentage of their sales as referral commission. You can also use it with Google AdSense. Therefore, you can employ multiple streams of income.
3. AdBrite
AdBrite is another great advertising option. It functions on a PPC basis too. You also have the option of rejecting any ads, which means you can place ads most relevant to your website. With AdBrite, you can get as much as 75% of the revenue, which is a decent portion compared to what some other programs give you. You can also customize ads to fit in with your blog template. They have a low minimum traffic requirement, so you can easily get approved.
4. InfoLinks
InfoLinks is an In-line Text Ad Program. It has ads in the form of texts and not images. It highlights money making keywords in your text. This form of advertising is best for high traffic websites. You can get a revenue share of up to 70%.
5. Clicksor
Clicksor is another In-line Text ad program like InfoLinks. Clicksor gives you a share of 85% of your total sales, which is higher than any other program! Clicksor also has an affiliate referral program as well, and you earn 10% of what the referred person earns as commission.
By far Google AdSense is the heavyweight in this area. Although their program is the most popular there are many alternatives out there if for some reason you can't use Google AdSense.