Introduction
Turnkey niche websites are a cost-effective and convenient solution for those who want to start an online business. These websites come pre-built, which eliminates the need to invest time and effort in creating a website from scratch. However, many people believe that turnkey niche websites are too generic and don't offer enough opportunities to differentiate themselves from competitors. In this article, we'll show you how to take a turnkey niche website and make it your own, so you can maximize your investment and stand out from the competition.
Understand the Niche and Target Audience
The first step to making a turnkey niche website your own is to understand the niche and target audience. It's essential to research and understand what your target audience is looking for and what they're willing to pay for. This information will help you make informed decisions when customizing your website and creating content that resonates with your target audience. Understanding your target audience will also help you to identify their pain points, preferences, and buying behavior, which can then be used to personalize your website and offer a better user experience.
Don't make assumptions about your audience's needs. Conduct thorough market research to gain insight into their desires and challenges. Join Facebook groups related to your niche and observe the questions your ideal readers are asking. Reach out to friends, family, and individuals in your Facebook communities who align with your niche and discuss their struggles with the specific topic you plan to tackle. Analyze the competition, if any. Don't view competition as a hindrance, but rather as an indication of a lucrative market. The presence of many competitors in your niche implies a high demand for what you're offering. On the other hand, a lack of competition in your niche may indicate a lack of interest from your target market.
Broad vs. Narrow Blog Niche Ideas
There are two main types of niches: broad and narrow. Broad niches cover a wide range of topics and can attract a large audience. Examples of broad niches include:
health and wellness
personal finance
lifestyle
beauty
On the other hand, narrow niches focus on a specific, narrow topic and target a more specialized audience. For example, a narrow niche could be:
"vegan for athletes"
"financial planning for single mothers"
Deciding between a broad or narrow niche depends on your goals and target audience, but both have their advantages and disadvantages. A broad niche can provide a wider audience and more opportunities for monetization, while a narrow niche can bring in a dedicated, passionate audience who is more likely to become loyal followers. Ultimately, the key is to choose a niche that you are passionate about and that you can see yourself writing about for the long-term.
Finding Your Niche
Once you have refined your niche, it becomes much simpler to develop content ideas, design relevant services and products, and craft effective marketing materials. This is because you have a clear understanding of your target audience, enabling you to tailor your messages to meet their specific needs.
Becoming the leading authority in your field for your particular audience is the ultimate goal. By honing in on their specific needs and addressing them directly, you can establish a successful niche website. Rather than attempting to serve everyone, focusing on your target audience and their needs is the key to success.
Begin with Google Searches
Uncovering niche opportunities begins with a thorough understanding of what other online sellers are offering within a product category or demographic. Conducting initial searches on Google is an excellent way to gain insight and survey the market landscape. For instance, let's take "vegan for athletes" as a starting point. This simple search uncovers a wealth of potential angles and sub-niches to explore, such as "vegan breakfast for athletes" and "plant based for athletes".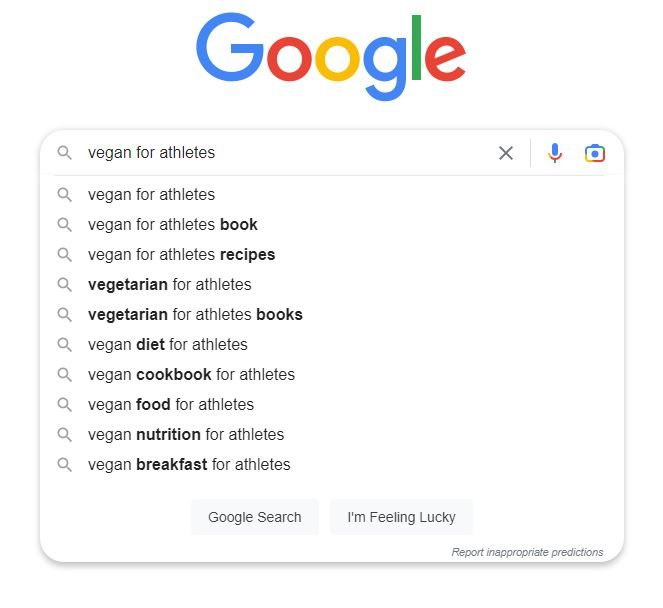 Determining your niche can take some experimentation, as you explore various topics and identify areas that have high demand but little competition. Don't be discouraged if you find others in your niche, as there is always room for differentiation and the opportunity to serve a more specific subset of that audience. The key is to focus on becoming a subject matter expert, not just a generalist, by honing in on a particular aspect of your niche.
Drill Down Your Niche With Keyword Research
A nice tool to use that can be very helpful in finding relevant keywords for your niche is: https://answerthepublic.com/
We submitted "vegan for athletes" which returned suggestions we could find a potential niche from. Here's a sample of the results: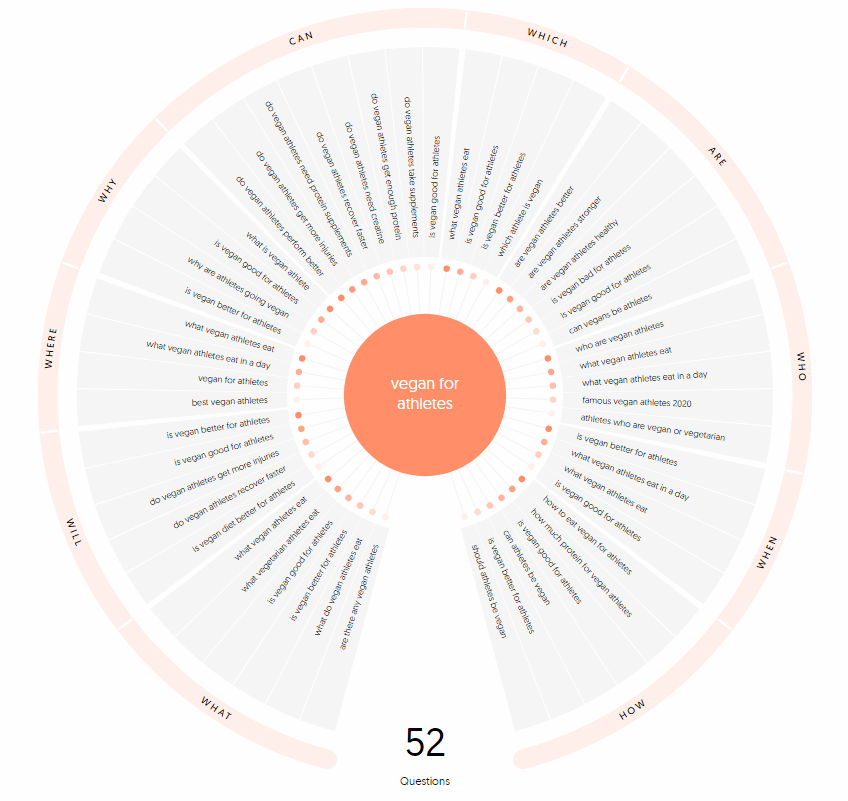 125+ Niche Ideas Based on What People are Searching for Daily
We offer over 40 broad niche topics which you can choose from to narrow down to your own specific niche. Here a few examples…
Health Niches
Healthy Eating

Plant-Based Dining
Rustic and Real Farm Fresh
Quick Cooking with an Airfryer

Quick Cooking with an Instapot
Slow Cooker Recipes for Everyone
Cooking Up Fun with the Kids

Nut-Free Lifestyle and Recipes
Dairy-Free Delights and Tips
Gluten-Free Living and Eating
A Sweet Life Without Sugar
Efficient Meal Planning for Busy Couples
Streamlined Meal Preparation for Busy Families.

Fitness

Fit Families: A Guide to Family Fitness
Workout Wonders for Busy Moms
Stay Fit as a Busy Dad
Fitness for the Busy Professional
Stay Strong Over 50
Targeted Weightlifting Techniques
Strength Training for a Specific Group
Kids' Yoga Adventures
Yoga for a Healthier You
Nurturing Prenatal Yoga
Yoga with Your Little One
Ageless Yoga: Staying Flexible Over 50
Mom-Friendly Pilates Routines

Weight Loss/Diets

The Ketogenic Lifestyle
The Paleolithic Plan
Gluten-Free Living
The Vegan Way
The Vegetarian Way of Eating
Cleansing and Detoxification Diets
Cycling Fasts for Weight Loss
Postpartum Weight Loss Solutions
Financial
Personal Finance

Eliminating Student Loan Debt
Smart Family Finances
Minimalist Lifestyle
The Home Buying Journey
RV Lifestyle
The Tiny Home Movement
Debt-Free Living
Conquering Debt
Preparing for College Costs
Planning for Retirement
Simplifying Your Life through Downsizing

Credit Repair

Credit Score Improvement
Credit Report Clean-up
Debt Reduction Strategies
Improving Credit History
Credit Repair Services
Fixing Credit Report Mistakes
Boosting Credit Rating
Negotiating with Creditors
Credit Restoration Techniques
Financial Recovery Plan

Debt Relief

Debt Management
Debt Consolidation
Debt Reduction
Debt Free Living
Credit Card Debt
Debt Negotiation
Debt Solutions
Financial Freedom
Budgeting and Saving
Debt Recovery Plan
Relationship Niches
Dating

Post-Divorce Dating
Navigating Dating After Divorce
Divorce Recovery and Dating
Building Relationships After Divorce
Christian Singles Dating
Enhancing Marriage Relationships
Rebuilding Marriage after Challenges

Parenting/Baby-Kids

Navigating Life after Divorce with Kids
Solo Parenting: Strategies and Support
Family-Friendly Activities for Young Children
Discovering the Magic of Children's Literature
Preparing for Pregnancy: Mind, Body, and Home
Navigating High-Risk Pregnancy with Confidence
The Art of Postpartum Recovery
Mastering the Art of Sleep Training for Babies and Toddlers
The Ultimate Guide to Baby Gear and Products
Embracing Adoption: Stories, Support, and Resources
The Journey of Overseas Adoption
Balancing Motherhood and Fitness
Building a Blended Family
Potty Training Made Simple
Working from Home with Kids
Discovering the Benefits of Homeschooling
Supporting Children with Special Needs
Co-Parenting with Confidence
Tips and Strategies for Raising Happy Kids
Step-Parenting with Grace
Hobbies
Travel

Exploring the World on a Budget
Backpacking & Trekking
Cultural Immersion
Luxury Travel
Ecotourism & Sustainable Travel
Road Trips & Road Trip Planning
Off-the-beaten-path Destinations
Food & Wine Travel
Beach Vacations
Outdoor Adventure Travel

Pet Care

Canine Care and Training
Puppy Training 101
Pet Grooming 101
Fostering Furry Friends
Training for Therapy Dogs
Fishkeeping for Freshwater Enthusiasts
Bearded Dragon Keeping 101
Parrot Parenting and Training
Hamster Husbandry and Tips
Alpaca Raising 101
Feline Care and Advice
Equine Care and Training

Passions

Hiking Adventures
Sailing the High Seas
Biking Tours
Peleton Workouts
Equestrian Riding
Marathon Running
Beginner Running Tips
Focused Sports Training
Saltwater Angling
Fly Fishing Techniques
Anime Artistry
Introducing Drawing Skills
Digital Scrapbooking Tricks
Flower Arrangements 101
Jewelry Crafting Ideas
Lego Building Masterpieces
Comic Book Writing Workshop
Flea Market Flipping Success
DIY Home Decorating Tips
Video Gaming Strategies
Woodworking Projects
Wine Making Secrets
Craft Beer Brewing
Fine Dining Delights
Language Learning for Everyone
Party Planning Essentials
Customize the Design
A turnkey niche website can be made unique by customizing the design. This includes changing the color scheme, fonts, images, and overall layout of the website. You can use website builders like WordPress to make changes to the design, or you can hire a web designer if you're not familiar with website building. When customizing the design, consider the following tips:
Use your brand colors to make the website look professional and consistent with your brand.
Choose a font that is easy to read and makes the website look modern and professional.
Use high-quality images that are relevant to your niche and target audience.
Make the website layout clean and easy to navigate to improve the user experience.
Create Unique Content
Turnkey niche websites come with pre-loaded content such as articles, images, and videos. But to make your website truly unique, you'll need to create your own content. This includes writing blog posts, creating videos, and uploading images that are relevant to the niche and target audience. The key to creating successful content is to make sure it is engaging, informative, and relevant to your target audience. Consider the following tips:
Write blog posts that answer common questions and provide valuable information to your target audience.
Create videos that demonstrate your products or services and provide tutorials and tips to your target audience.
Use images that are visually appealing and relevant to your niche and target audience.
Add Custom Features
Turnkey niche websites often come with features like an e-commerce store, email marketing, and affiliate marketing. But to make your website truly unique, you may want to add custom features that are specific to your niche. For example, if you're in the fitness niche, you may want to add a workout tracker or a meal planner. This will help you stand out from your competitors and offer a unique user experience to your visitors. Consider the following tips:
Use analytics tools to understand the behavior of your visitors and identify areas for improvement.
Add features that are relevant to your niche and target audience, such as a forum or a community where visitors can interact and share information.
Use A/B testing to determine which features are most effective and make data-driven decisions about which features to keep and which to remove.
Promote Your Website
Once you've made changes to the website, it's time to promote it. You can use digital marketing strategies like search engine optimization (SEO), social media marketing, and paid advertising to drive traffic to your website and attract potential customers. Consider the following tips:
Optimize your website for search engines by using keywords that are relevant to your niche and target audience.
Utilize social media platforms like Facebook, Instagram, and Twitter to promote your website and connect with your target audience.
Invest in paid advertising like Google AdWords or Facebook Ads to drive targeted traffic to your website.
Conclusion
Turnkey niche websites are a great way to get started in the world of online business, but it's important to make them your own in order to stand out from the competition. By customizing the design, creating unique content, adding custom features, and promoting your website, you can make your turnkey niche website truly unique and maximize your investment. The key is to take the time to understand your niche and target audience, and to make data-driven decisions about how to improve your website. With a little effort and creativity, you can turn a turnkey niche website into a thriving online business.
Here are a few resources to get you started: